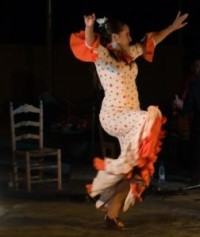 Have you ever wondered what makes a dress for flamenco dancing different from a flamenco dress for the Feria or an ordinary dress? Perhaps you are thinking of making one yourself? Let me show you.
First of all, there is no limit to your imagination. You can wear what ever you like and feel comfortable in. But there are of course typical flamenco outfits. Fashion changes in the flamenco world too so I will talk about the type of flamenco dress I'm currently making for my clients.
Tight or Wide? Flamenco dresses are very fitted until somewhere below the hip, sometimes as far as the knee area, and flare out towards the hem. Tops and
dresses usually have "princess seams" to achieve the close fit. The narrower the skirt the more elegant and flattering it looks but the more it limits your freedom of movement. So if your style of dancing involves wide steps and you don't want to lift your skirt each time
you'll be better off keeping it a bit loser (or choose an elastic fabric).
Sleeves Or Sleeveless? Most flamenco dresses or tops have sleeves, reaching either to a point just above the elbow, just below the elbow or to the wrist. Sleeveless dresses or tops are great too and will often be combined with short blouses or jackets when summer is over. Sleeves tend to be very narrow so the shoulder area and the actual sleeve needs to be cut differently from a "normal" dress to ensure that you can move your arms the way you need to in flamenco dance. (if you want to know exactly how to do that check out How to Sew Sleeves That Let You Move)
Plunging Necklines? The most common neckline shapes are V-shape, square, sweetheart and round. How low you go depends on your taste and figure. Too high a neckline is rarely flattering but one that is too low might make you feel uncomfortable when you lean forward to pick up your skirt while dancing. Tops or dresses cut low at the back look great but the straps or shoulder part might end up where you don't want them when you drop your shoulders while dancing.
How Long? In general, a flamenco skirt should cover at least part of the shoe. Most dancers prefer skirts that reach to the middle of the heel of the shoe. But there are always some who want their skirts to almost reach the floor and others who are worried about stepping onto the skirt while dancing and therefore wear it a bit shorter.
Continue reading What Makes a Flamenco Dress (Part 2)