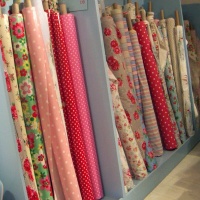 If you have decided to make a flamenco dress (or any flamenco outfit for that matter) sooner or later you will want to go shopping for fabrics. If you are not sure what to look for check out the following tips.
Since I live and work in Granada (Spain) you will find that some of the information below has a "local flavour" but you should find useful advice even if you won't be fabric hunting in Granada.
Now what should you buy?
Most polka dot ("lunares") prints will be polyester mix fabrics (ask for "koshivo" or "crespon") and cost around €5 – €6/metre but there isn't really a limit to the type of fabric you can use. Anything you like the feel and look of goes. What works best for you depends on the kind of flamenco dress you have in mind. The following tips might help you decide which fabrics to buy:
Polyester mix fabrics like

koshivo

or

crespon

can be machine washed, don't wrinkle and don't shrink. This makes them a good choice for your flamenco dress. They have a nice soft flow and are suitable for most flamenco outfits. They don't weigh a lot though so if you prefer your skirt or dress without ruffles you need a fair bit of volume at the hem line to make it work.
Think twice before buying a fabric that wrinkles easily (to test crunch a corner of the fabric in your hand). Ironing a fitted dress isn't fun and I'm not even talking about the ruffles. Unless you can always store your outfit on a hanger and don't need to stuff it in a bag to take it to your class or performance venue better stay away from fabrics that wrinkle.
Heavier fabrics can work very well provided you choose a skirt design with little volume at the hem line and/or few ruffles. Otherwise your skirt or dress will be too heavy for you to dance comfortably.
Elastic fabrics can be a great choice, especially for practice skirts (ask for "

punto de algodón

" or "

punto de licra

" but don't really expect to find it in Granada). They can't be beaten when it comes to comfort but do hold them up against light to make sure they aren't too see-through. Some of them also cling to the body in a very unforgiving way. Medium weight fabrics with a little stretch give great results but the choice of colours and prints might be rather limited. If you consider adding ruffles check that the fabric doesn't have a lot of vertical stretch, otherwise your skirt hem "bounces" while dancing and you might step on it or stumble.
Unless you want a practice skirt your flamenco outfit should be lined. Lining makes your garment more comfortable to wear and ensures that it won't be see-through when the lights on stage are on. The ideal lining fabric to buy is a soft cotton mix (ask for "

forro de popelín

"). The choice of colours is limited so you often won't find one that perfectly matches your fabric but this isn't a problem. Especially if your fabric is light weight and/or has light coloured polka dots (lunares), flowers etc. it is worth considering white lining regardless of the main fabric colour. The lining fabric won't be visible from the outside and with a white lining the colour of your

lunares

or flowers won't look dull. Lay your fabric on top of white and for example black lining and see the difference – the decision is yours.
There are traditional flamenco colours, for example black or red, and there are traditional flamenco dress designs. If you are thinking of being adventurous be aware that if you choose an unusual dress design combined with an unusual fabric you will end up with a gorgeous outfit that isn't at all "flamenco". It is better to limit your creativity to one of the two areas – choose a traditional flamenco fabric and go wild on the design or the other way round.
The less clear your ideas of the perfect fabric colour and print are the better. If you are looking for that special tone of burgundy you are setting yourself up for frustration when shopping for fabric in Granada. Just go in with an open mind and let the materials inspire you!
If you are wondering whether you can buy flamenco fabrics online .. yes, you can. Check out this article to find out more.
If you'd like to learn more about which fabrics work for flamenco dance costume I recommend you check out the Flamenco Fabric Guide, an eBook that comes with fabric swatches you can take to your local fabric shop. After all, what does a fabric name really mean? There is only so much I can explain in writing. Even a video doesn't really help. The only way to know is to touch a piece of fabric. Get your eBook and fabric swatches here.