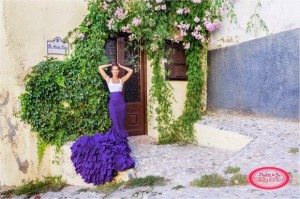 Love the idea of combining a holiday in Granada, Andalusia, exploring its rich history and experiencing first hand the passion of flamenco, with learning how to make authentic flamenco dance costumes – hands-on in private classes or very small groups (max. 3 people) if you prefer coming with a friend?
Are you tired of struggling to find flamenco dance costumes that fit like a glove, flatter your figure and allow the freedom of movement you need in order to express yourself dancing?
Not speaking a lot of Spanish and having difficulty communicating with flamenco costume shops and dressmakers in Spain?
Tired of worrying that the outfit you've ordered in Spain
does not fit,
does not arrive on time,
isn't the color or material you had in mind?
Would you love to take flamenco costume creation into your own hands but aren't sure where to start or need some help to take it to the next level?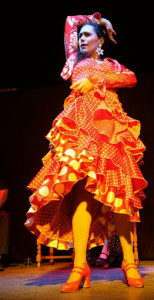 Learn to sew your dream flamenco dance costume hands-on, in private or small group (max. 3 students) intensive courses, right in the historic part of Granada, in the heart of flamenco – Andalusia.
I personally teach you how to make your favourite outfit, whether you are a beginner or experienced sewer, whether you want to sew for yourself or others. Classes are held in English (or German or Spanish if you prefer) so you don't have to worry about not understanding the instructions or not being able to ask questions.
Private classes are the most efficient way for you to learn and the quickest route to great results. Courses are tailored to your needs – your level of experience, your objective, the time you have available. so you learn everything you want and nothing you don't.
What You Will Learn
How to sew a flamenco dance costume from start to finish:
How to choose the right fabric and lining material
How to choose the best design so the outfit flatters your figure and is perfect for your way of dancing
How to adapt a standard size pattern to your measurements
How to cut the fabric and prepare the costume for fitting
How to solve your personal fitting problems to ensure a comfortable fit and freedom of movement
How to finish the garment, make and attach ruffles
How to calculate how many meters of ruffles/fabric are required for any ruffle look you have in mind
How to cut ruffles to save time and minimize fabric waste
Different ruffle finishes and when to choose which
The best way to sew ruffles onto your skirt or dress
Proven sewing techniques, tips and tricks and the best sequence of steps to ensure perfect results every time – the lessons I have learnt after making hundreds and hundreds of dance costumes for dancers all over the world
The garment you make during the course is merely the practical project that allows you to apply straight away what you are learning. You will take away the knowledge you need to get creative yourself and design and make any flamenco costume you want.
What You Will Take Home
The finished flamenco dance costume you made in class
The sewing pattern for the dance costume in digital and paper format for you to use in future projects
Course materials and resource list in digital format so you can apply what you've learnt to new projects when you get home
The satisfaction and confidence that comes from knowing that you'll never again have to dance in a flamenco costume that is anything less than perfect.
To find out details and available dates please enter your name and email address below:


And while you're here don't forget to
Discover the Magic of Granada
Granada has a lot to offer – not only the Alhambra, the cathedral, el Albaicin and Sacromonte. You will be able to explore Granada off the beaten tourist track, be part of the every day life of the locals, shop for food at Plaza Larga just like people did centuries ago and still do today, experience the different moods of the famous lookout Mirador San Nicolas at different times of the day, have breakfast or some tapas at the locals' favourite places, experience authentic and passionate flamenco  and so much more (and I haven't even mentioned the weather ..)
Treat yourself to the experience of a lifetime!

To find out details and available dates please enter your name and email address below: