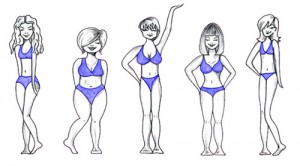 Your body is unique and flamenco dresses are very fitted garments that only look good and feel comfortable if they fit like a glove. If you find that
standard sizes don't usually fit you well, or
you are unsure about how to adapt a pattern to your measurements, or
you prefer spending your time sewing your flamenco costume instead of altering a pattern
then personalized sewing patterns made to your measurements are your perfect option.
How does it work?
I offer patterns individually drafted to your unique measurements for any design you find in the Patterns section of this website.
Once you found the pattern(s) you like
Go to the relevant measurments form
There are two different measurement forms. One for skirt patterns ( incl. bata de cola) and one for all other patterns. Skirt patterns require less measurements so if you only want skirt patterns you can save time by submitting the skirt measurements form. For all other patterns choose the full measurements form. You will find links to the respective measurements forms on each pattern product page. Enter your contact details and choose the pattern(s) you'd like.
Send me your measurements
Take your measurements following the images and instructions on the form (for detailed explanations check out How to Take Your Measurements) and enter them online. Don't worry if you can't finish in one go, form data already entered are remembered for 1 day so you can come back to the form later.
Submit your measurements form.
Purchase and download your pattern(s)
Once your patterns are ready you'll receive an email with a link where you can securely purchase and download your patterns, just like standard size patterns.
What You Will Get
You will get the same files as for standard size patterns, with the actual pattern files made to your personal measurements, ready for you to get sewing. See What you will get , How to Assemble Your Pattern and Print Your Pattern at a Print Shop for more information.
 How Long Will it Take?
Your patterns will be individually drafted, it is NOT an automated process, so please allow 3-4 working days for me to complete your pattern(s).
Save time and trouble and get your made to measure sewing pattern now: