Description
If you're sewing just for yourself or that special flamenco dancer in your life you'll be ready to sew any number of flamenco costumes with the "All Patterns Just In Your Size" pack. It includes
just in the size you choose.
+ Step by step instructions for adjusting a standard size pattern to your measurements for a perfect fit.
How to Choose Your Size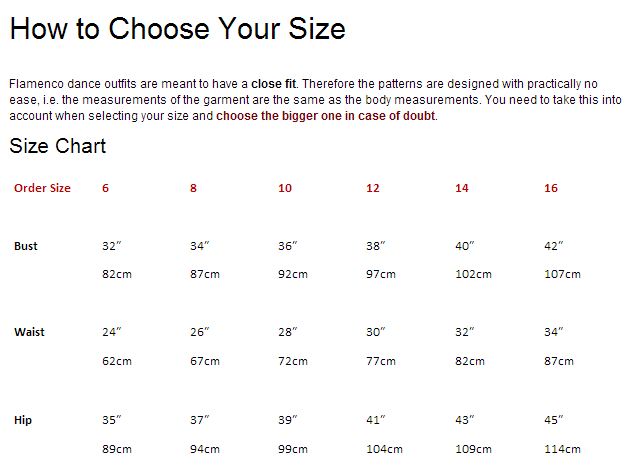 If your measurements coincide with those of one of the standard sizes the choice is clear. But what if your
measurements are "between sizes"?
There is no one right answer.
As a rule of thumb:
–   In case of doubt go for the larger size. The patterns are designed to be very close fitting and have very little
or no ease (the difference between your body measurements and the pattern measurements).
–   If your measurements spread across several sizes I usually recommend using your bust measurement as the
guide.
That said, if you follow the instructions for adjusting the pattern to your measurements (included with your pattern purchase) you'll achieve a great fit, no matter which size you choose. You'll just have less to do the closer the size is to your measurements. This applies also if you're larger than a size 16 or smaller than a size 6. Just choose size 16 or 6 respectively and apply the adjustments and you'll sew a flamenco costumes that fits your body.